This valley spans from Rotvodfjære shoreline up towards Rotvold. This is in all likelihood a very old piece of cultivated land – south facing and with good soil. The name indicates that the land is cultivated by flaming of the thicket. Furthermore, the name tells us that the field is south facing.
Sjøbakken (1)
A croft only in use for a short was located here. In 1875, the blacksmith Peder Sveinsson and his wife, Jokomina Jonsdatter was in residence. They had a daughter also named Jokomina. The croft must have been small, as it was reported that they had one sheep.
Sjøbakken ceased to be a croft before 1891.
"Gamleveien" (The old road) (2):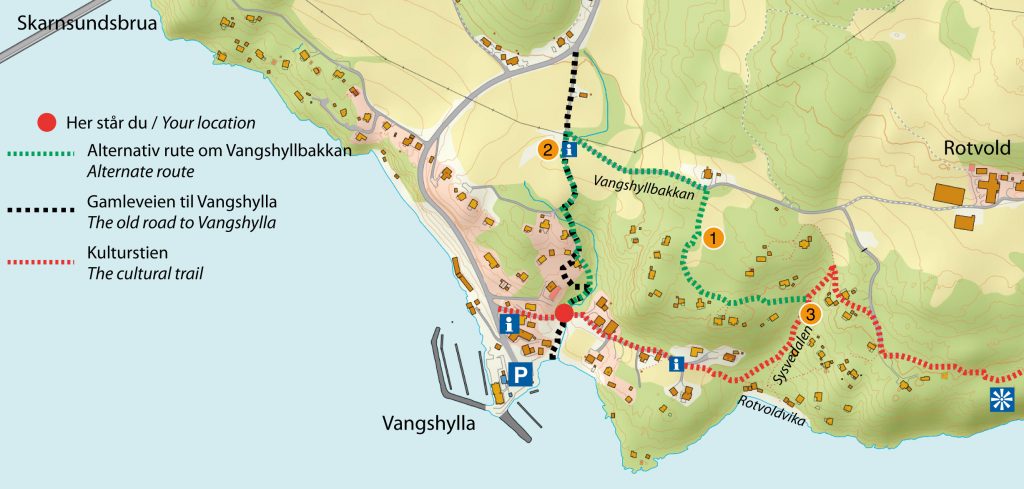 The old road
The old road went from Vangshylla and right up through the hills, and it was the first public road here in the beginning of the 1800s. But right from the first settlement in Vanggrenda hamlet, there has probably been a road or trail here used by people going down to the boathouses or to the sea. After the new road was completed in 1930, the old road was reduced to a crop path and shortcut.